Dr. Leslie-Anne Smith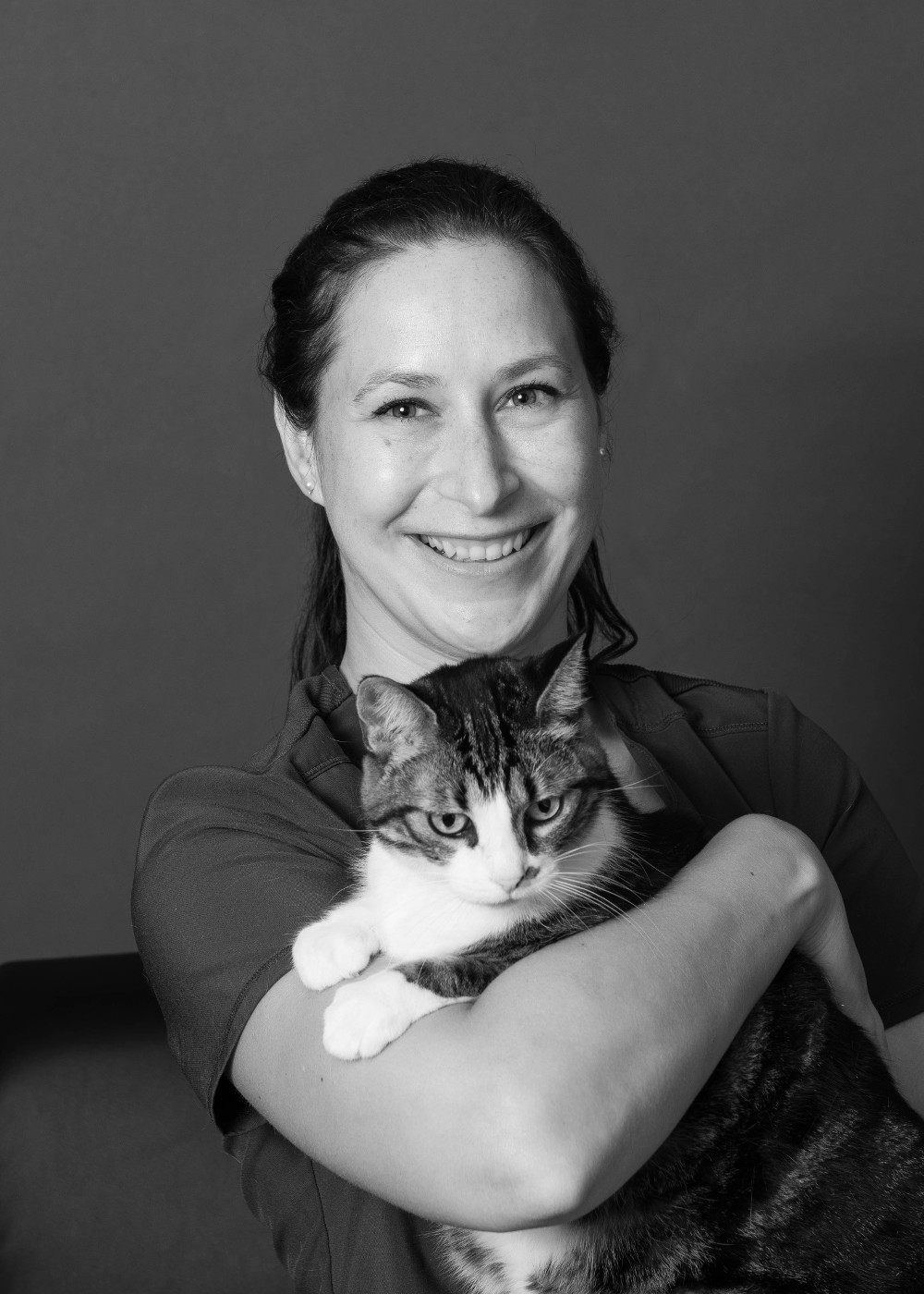 Born in Saskatchewan and raised in the Sherwood Park area, Leslie-Anne Smith's love for animals began with her time in Gymkhana and 4-H, eventually making her way into Pony Club and Eventing, as well as the Hunter/Jumper world. Leslie-Anne took the longer path to becoming a veterinarian, receiving dual degrees in Microbiology & Immunology and Archaeology before attending the Western College of Veterinary Medicine in Saskatoon. She graduated in 2008 and started her veterinary career as a mixed animal practitioner. After many escapades working with horses, alpacas and goats, Leslie-Anne now focuses on veterinary care for cats and dogs.
Leslie-Anne is very earnest about the significance of the pet-human bond. She is passionate about providing the best veterinary medicine possible by educating her clients on the ins and outs of their pet's health. While both laughter and tears are part of being a veterinarian, Leslie-Anne would never change the choice she made in Grade 2, when her teacher asked her what she wanted to be when she grew up.
When not taking care of other people's fur families, Leslie-Anne enjoys spending time with her husband and their kitty kids (Gimli and Ori), who are SPCA specials. She and her husband love to travel, adventuring through New Zealand, Italy, Peru and the beautiful trails of Jasper National Park. One of Leslie-Anne's much-loved travel destinations is Mexico, where she has gone scuba diving with her favourite animal in the world—the sea turtle.
Dr. Tara Mah
Like most veterinarians, Tara Mah developed a passion for pets and their welfare at a very young age. However, her road to becoming a veterinarian was anything but traditional. Tara's first career was as a lawyer, where she achieved partnership at a major national law firm. Through her law career, Tara developed excellent communication skills and learned the value of collaborating with her clients to achieve a desired outcome. While Tara very much enjoyed her law practice, her drive to help people care for their pets was too strong to ignore, so she retired from law and went back to school to earn her veterinary degree.
Tara is one of the founding partners of Emerald Hills Veterinary Clinic, fulfilling her dream of providing quality veterinary medicine in a compassionate, family-oriented environment. She is committed to helping clients provide their pets with the best life possible by focusing on wellness, including preventative health care, dental care, nutrition and behaviour/environmental enrichment.
When not at the clinic, you can find Tara at an off-leash park with her rescue Border Collie cross, Frizz-Be, and her small-in-stature, big-in-personality Maltese cross, Gus, or at her home, which is run by Tara's two rescue cats, Wilbur and Maddie.
Dana McGowan

Veterinary Technologist
Born and raised in rural Strathcona County, Dana McGowan has always had a passion for animals, which inevitably led her to a career in veterinary medicine. She has been working as a registered veterinary technician in the Edmonton area since 2001 and has called Sherwood Park home for more than 25 years. Dana shares her home in Emerald Hills with her two dogs, one furry cat, two hairless Sphynx cats, two teenagers and her husband Mike.
Dana is enthusiastic about all aspects of veterinary care, with a special interest in anaesthesia and dentistry. She prides herself on keeping pace with the latest in veterinary medicine and is frequently advancing her skills through continuing education. Dana is enthusiastic about sharing her experience and knowledge with clients to help enhance patient care.
Chrystal Casper

Veterinary Technologist
Chrystal Casper has always loved animals, with childhood dreams of becoming a veterinarian when she grew up. However, life had other plans. After completing high school, Chrystal completed university coursework and went on to work a variety of jobs, none of which fulfilled her passion for taking care of animals. Then, a trip to Australia inspired Chrystal to pursue her longtime passion for veterinary medicine. She completed the 40-hour prerequisite for the Animal Health Technology course and was hooked from day one. While dorm life in her 30s was a little different, Chrystal is proud to have graduated with distinction from Lakeland College's Animal Health Technology program. She is one of the clinic's registered veterinary technicians and is looking forward to helping pets and their families.
In her spare time, Chrystal plays competitive indoor soccer and enjoys watching movies or playing video games. Although Chrystal does not currently have any pets, she is looking forward to having a whole pack of fluffy things in the future.
Monica Clair

Veterinary Technologist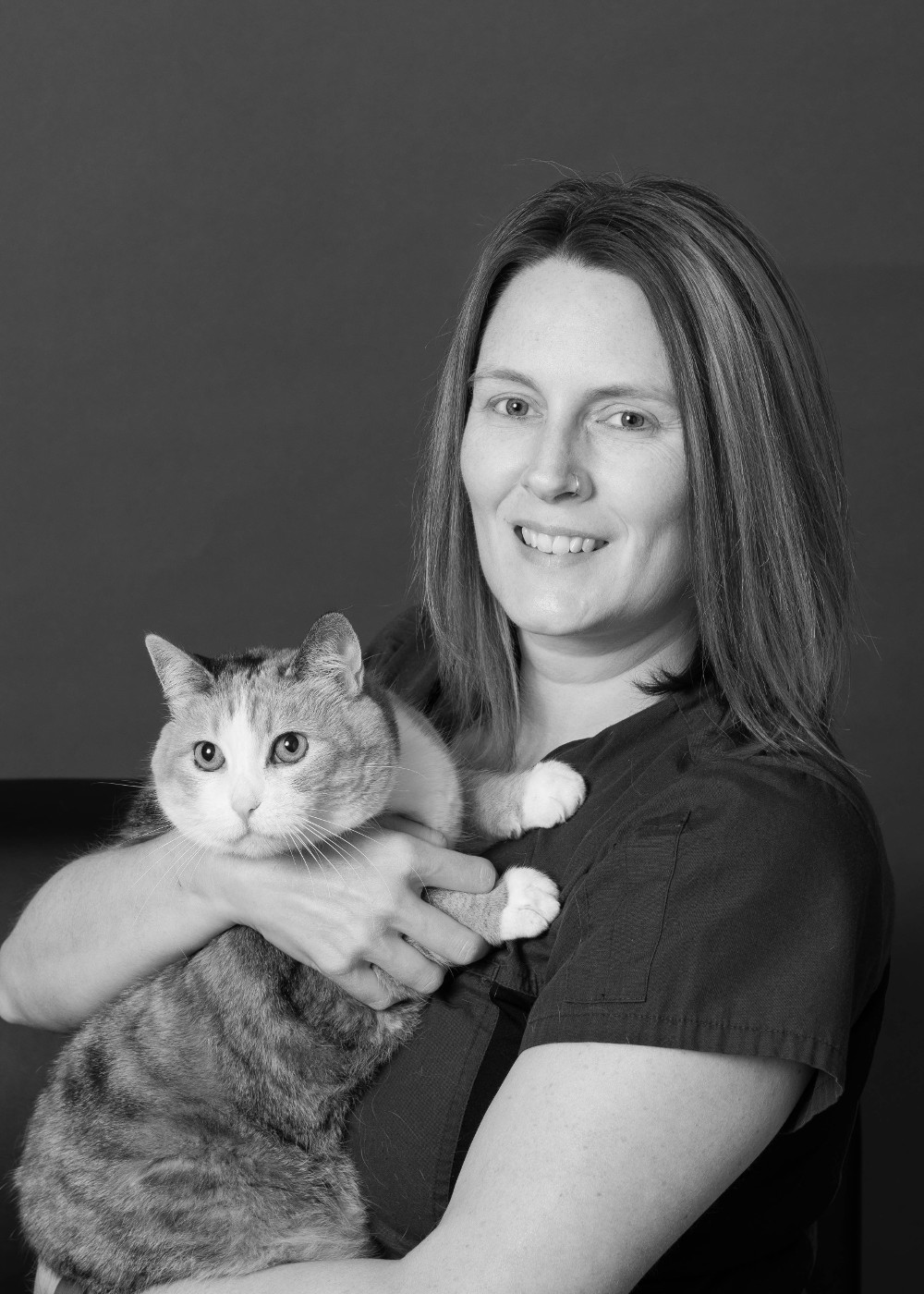 Monica Clair grew up in New Brunswick and her first job was working on a dairy farm while concurrently earning a degree in accounting/computers. Her passion for wanting to work closely with animals outweighed the desk job and Monica relocated to Alberta 20 years ago to pursue a career in the animal health industry. She entered the AHT program at Fairview College and graduated with honours in 2000.
Monica has worked in a variety of veterinary practices, including emergency medicine and is a "jill-of-all-trades and master-of-all" when it comes to managing a veterinary practice. Her home life is currently under the management of Julia and Katie, her two senior cats. Monica is very excited to be joining the team at Emerald Hills Veterinary Clinic.
Cynthia Battcock

Client Care Specialist /Veterinary Technologist Student
Cynthia Battcock has been making her way across Canada her whole life. She was born in Ontario but spent most of her childhood in a small town in Northern Manitoba. In 2012, she moved to SouthEast Edmonton with her boyfriend and three kitties - Jet, Moose and Charles.
Cynthia started in the customer service industry and wanted to incorporate her love for animals with her enthusiasm for making people happy. Working as a client care specialist at Emerald Hills Veterinary Clinic allows her to achieve this goal. Cynthia is embarking on an exciting, new journey in September 2018 as she is enrolled in NAIT's Animal Health Technology program. We look forward to seeing her flourish in this new career path!
In her spare time, Cynthia can be found snuggling her kitties, hiking around the river valley or reading on her deck. Check out our Facebook or Instagram page to see the fresh and exciting posts Cynthia has been working on to bring our community closer via social media!
Abigail Garner

Client Care Specialist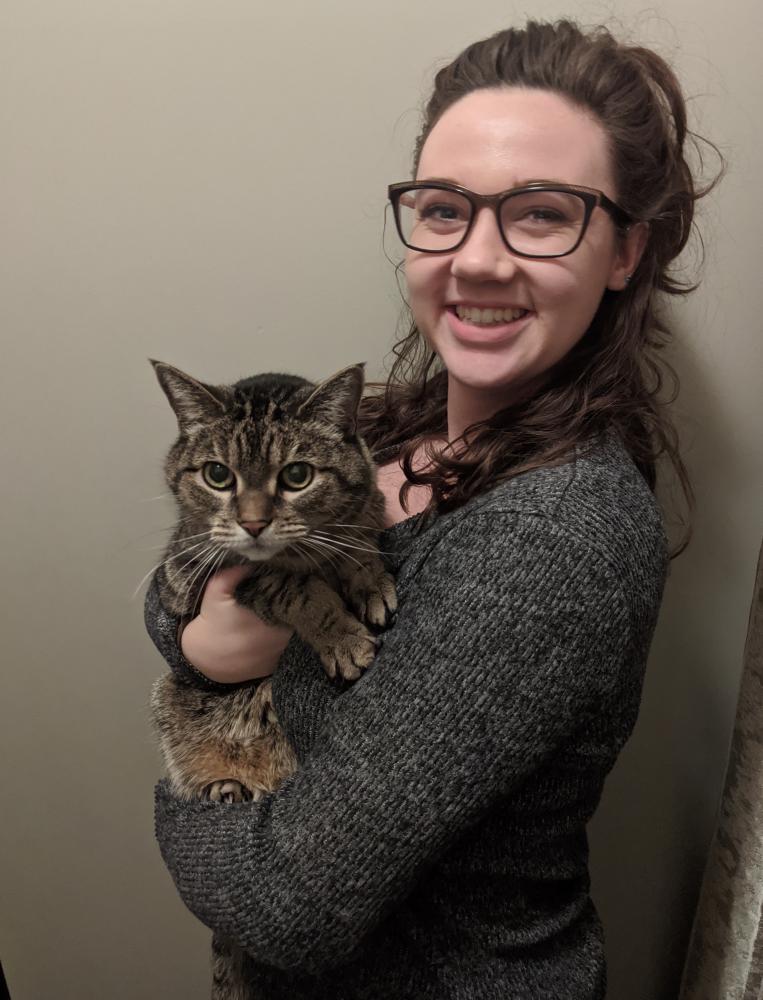 Abigail Garner grew up in Sherwood Park and, from a young age, dreamed of working with animals and becoming a veterinarian. She is a recent graduate from the University of Alberta with a BSc in Animal Health and is applying for admission into veterinary school.
Throughout the last few years, Abigail has gained experience by working in various veterinary clinics. She has volunteered to work with animals at the zoo as well as a couple trips down south to Central America to work with local veterinarians.
Abigail spends her weekends working at the Whitemud Equine Centre with the horses that are involved with the therapeutic riding program. She also enjoys playing community soccer in Sherwood Park. Her home life includes drawing and reading, as well as spending time with her senior kitty, Junior… when he allows it.